Alberta's Canadian Rockies are wild, rugged and infinitely beautiful. With dramatic peaks, sparkling glaciers and pristine lakes, boasting almost every blue hue, Banff and Jasper are a gift to the senses.
There are so many hidden gems to uncover within these national parks, whether you're hiking, biking, or exploring by tour. Banff and Jasper's waterfalls are such a treasure. Ever-changing, their ebb and flow have helped shape landscapes since time immemorial.
There are countless waterfalls in the Canadian Rockies; however, these eight are some of the most wondrous and accessible. Four are located on the scenic Icefields Parkway, linking Jasper and Banff, so a Rocky Mountain road trip is the best way to see them. The list below puts them in order for a roadtrip from Jasper to Banff
Maligne Canyon, Jasper National Park
Boasting depths of up to 50 metres, Maligne Canyon is the deepest of its kind in Jasper National Park. About 10 minutes from downtown Jasper, the year-round attraction offers visitors many breathtaking viewpoints, hidden along a winding forest trail. Discover a series of six bridges, each displaying a unique vantage of the rushing water, winding through the narrow gorge below. At the fifth bridge, you'll be rewarded with an epic view of the canyon's waterfall. Continue hiking to the sixth bridge, or loop back to the Maligne Canyon Wilderness Kitchen, for a delicious smokehouse BBQ lunch. It's equally spectacular here in winter, especially if you join a guided tour to explore the frozen falls from the canyon floor.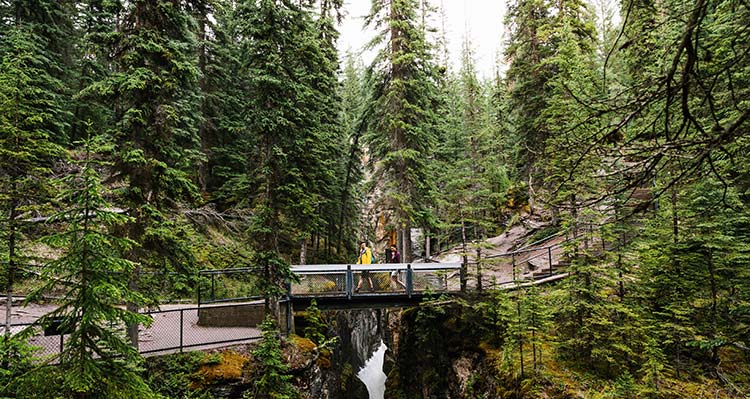 Athabasca Falls, Jasper National Park
Considered one of Jasper's landmark natural attractions, Athabasca Falls is located just off the world-famous Icefields Parkway, on Highway 93A, about 30 minutes south of town. The powerful class five waterfall tumbles seven metres down into the canyon it helped carve. Plan to spend some time exploring the one-kilometre interpretive path to learn about the Athabasca River and local flora and fauna. Visit in winter to capture breathtaking shots of the sparkling icy scene.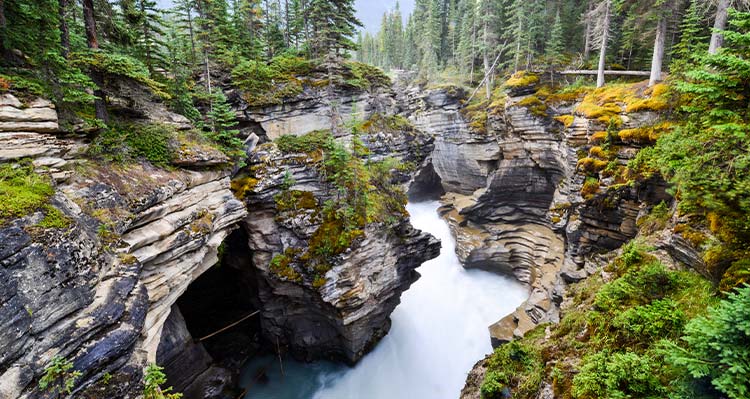 Sunwapta Falls, Jasper National Park
Another iconic waterfall found along the Icefields Parkway, 45-minutes south of Jasper, is Sunwapta Falls. Fed by the Athabasca Glacier, this sightseeing treat is comprised of upper and lower waterfalls. The upper falls are the most accessible and can be seen with ease from the viewpoint parking lot. Visit in late spring and summer, during the snowmelt peak, to witness water thundering over the 18-metre drop-off. For the lower falls, you'll have to hike 1.8 km down from the parking lot. It's well worth your time, as the lower site features three waterfalls cascading into the Sunwapta River.